Peričnik Waterfall, known as "Slap Peričnik" in Slovenian (pronounced Peritchnik/č: tch), is one of Slovenia's most iconic natural wonders. This waterfall, located about 40 minutes from Bled, is renowned for its spectacular beauty and uniqueness. It is situated in the glacial valley of Vrata, near the village of Mojstrana, within Triglav National Park. This park is Slovenia's only national park and is famous for its impressive alpine landscapes.
Peričnik Waterfall is a Slovenian natural treasure, a place where the grandeur of nature is showcased in a truly impressive manner. If you are visiting Slovenia, this waterfall should be on your list of must-visit places for an unforgettable natural experience.

Peričnik Waterfall is easily accessible
and you have two options:
1) HIKING
Park at the free parking lot in Mojstrana, which is located approximately 2.8 kilometers (1,74 mi) from the waterfall.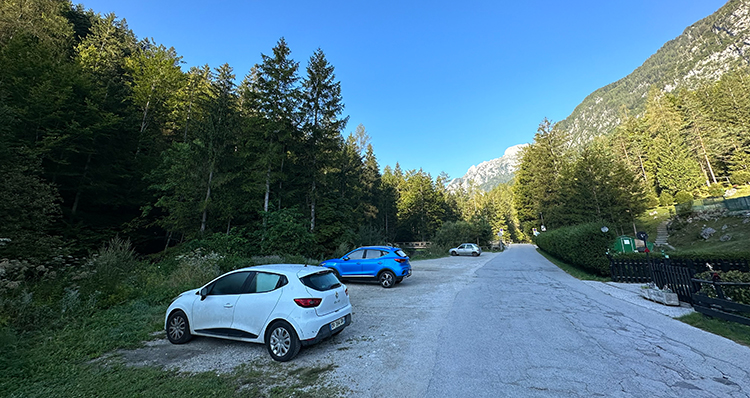 The hiking trail begins approximately 500 meters (0,30 mi) from the parking area.
(For hiking, take the left path in the photo below, or the right if you're in a car heading to the paid parking area at the base of the waterfall / Routes on the map below.)
This is an ideal excursion for hikers of all levels, with a flat terrain, taking approximately thirty minutes. During your stroll, you will walk alongside the picturesque Bistrica River. The crystal-clear waters of the river enhance the peaceful atmosphere of the hike. Towards the end of the trail, you will cross the river using a wooden footbridge.

2) BY CAR

You can park at the lot located at the base of the waterfall, but it will cost you 6 € per hour. This fee can be paid at the restaurant located 150 meters (500 ft) before the waterfall (as shown in the photo below).
When we left the site at 7:30 AM, the restaurant was still closed, so you might be able to enjoy free parking if you arrive early.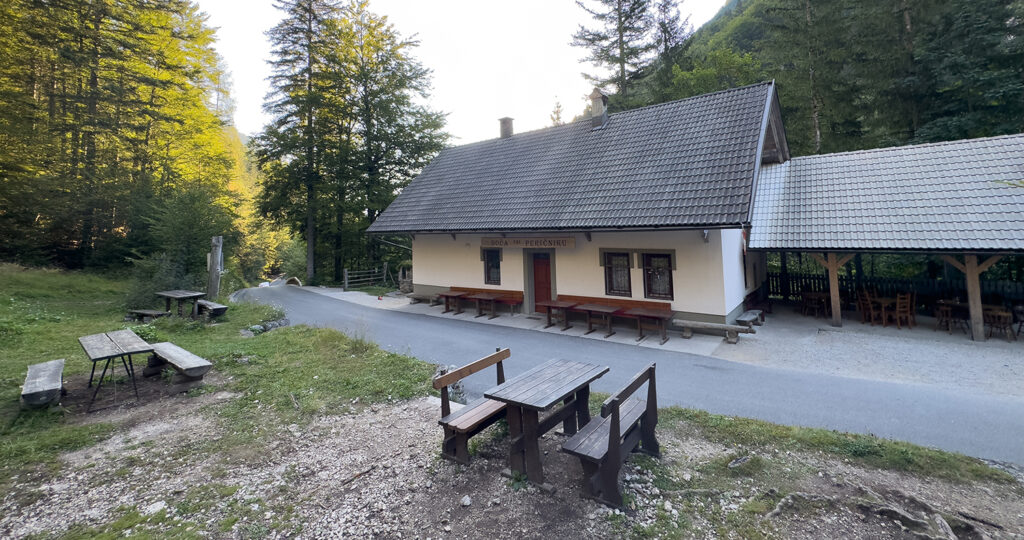 ---
LET'S GO !
When you start the ascent from the roadside, expect a 10-minute climb with a 60-meter elevation gain (197 ft) to cover the 250-meter (820 ft) trail that will take you to the base of the main waterfall.
Peričnik Waterfall is impressive in terms of its height. The main waterfall measures approximately 52 meters (170 ft) in height, while the entire waterfall complex surrounding it is even taller, reaching a total of 78 meters (256 ft). You can access the other waterfall located above the main one. The trail is marked and secured but is suitable for experienced hikers. (As seen in the photo below the video.)
WHEN TO GO?
The best time to visit Peričnik Waterfall is during spring and summer when snowmelt and precipitation increase the water flow, creating an even more impressive view. However, the waterfall is also beautiful in winter as it can be partially or completely frozen.