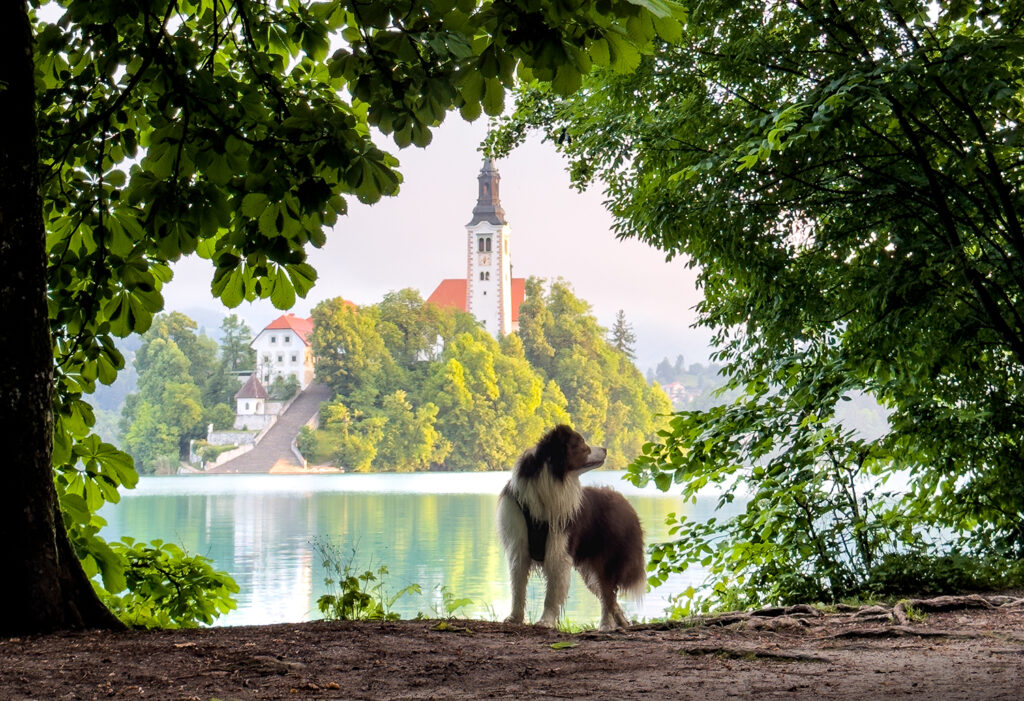 GOOD TO KNOW
– In the past, Lake Bled was a tectonic basin, shaped over centuries by the Bohinj Glacier. The only obstacle to its progress was an immense rock that the glacier patiently eroded, giving it the current shape of the island. When the ice finally melted, this basin filled with water to create Lake Bled, which sometimes reaches a depth of 30 meters. The lake is home to a variety of 19 fish species, including carp, catfish, and lake trout. On the surface of the lake, numerous birds, including mallards and swans, thrive alongside a multitude of aquatic plants.
– Bled is located at an altitude of 508 meters (1666 ft).The circumference of the lake is 6 kilometers (3,7 miles).
– Bled is 55 kilometers (34 miles) north of Ljubljana, the capital of Slovenia.
– Bled is 25 kilometers (15 miles) from Austria via the Karawanken Tunnel.
– In my opinion, the best season for photos of Bled is autumn. The air cools down, and fog often envelops the lake (the photo below was taken in December with a drone).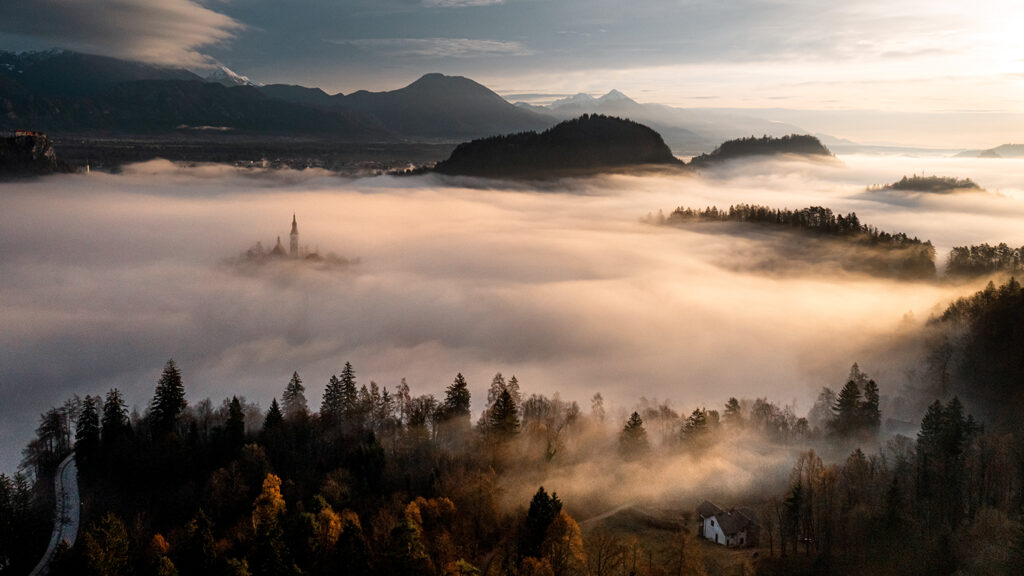 THE PARKING IN BLED
Before taking your camera out of its bag, you'll first need to find a place to park, which can be challenging around the lake. First and foremost, forget about free parking and wild parking to avoid fines. A security team regularly patrols, easily identifiable by their white cars with yellow and brown stripes and flashing lights bearing the inscription "Redarstvo." They frequently patrol to issue fines, so also avoid sleeping in your car overnight in paid parking lots (it's prohibited in Slovenia), as you might end up with a costly wake-up call.
There are numerous parking options in town, and you have three on the south shore of the lake, where the best photo spots are located:
– Mala Zaka: Free from 08:00 PM to 08:00 AM, then €3 per hour. It's located right next to the rowing Olympic club.
– Velika Zaka: Next to the campsite and the path leading up to the Ojstrica viewpoint, €6 per hour 24/7.
– Bled Train Station: Free from 10:00 PM to 06:00 AM, then €6 for 4 hours, €10 beyond. €15 per day for RVs.
You can find the complete list of parking lots and prices on the -> Bled <- city website.
RECOMMENDATIONS
If your photos are for commercial purposes, you must seek permission from the Bled municipality: obcina@bled.si.
2. For drones, the legislation is the same as in France. More information can be found on the Bled city website.
SUN POSITION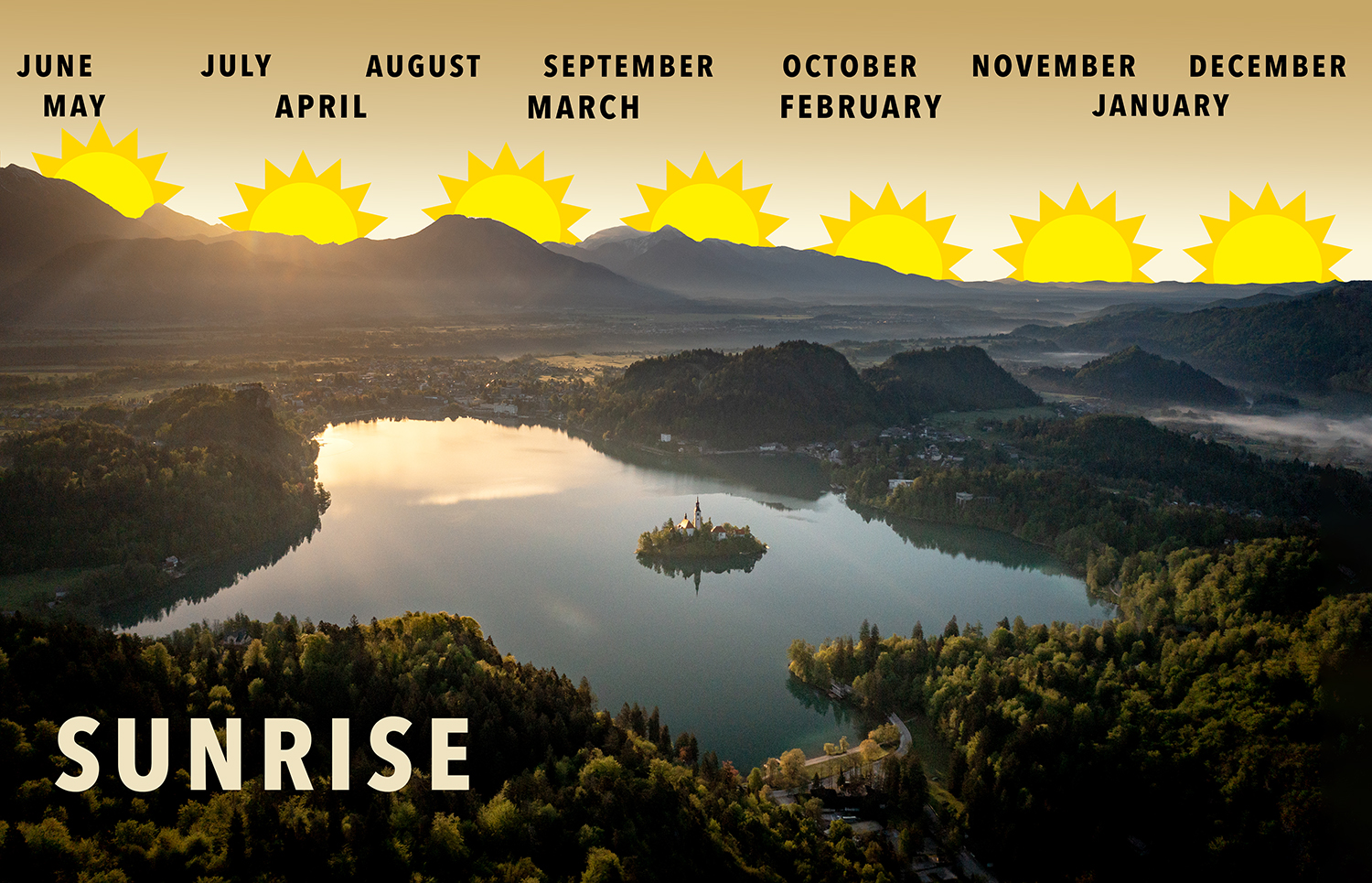 BEST PHOTOS PLACES